By Taryn Wong Fowler –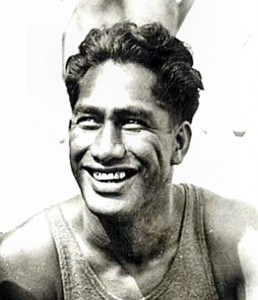 Duke Paoa kahanamoku, a true waterman, surfer, canoe paddler, record breaking swimmer, "the King of Waikiki Beach," and the first truly famous beachboy" was born in 1890 and raised in Kalia, Waikiki. His father (Duke Halapu Kahanamoku) and his mother (Julia Pa'akonia Lonokahikina Paoa) were both from prominent Hawaiian families. As a keiki Duke grew up in a modest home on the beach where the Hilton Hawaiian Village now stands. Duke was the eldest of nine children with five brothers and three sisters. He spent his childhood playing the beach with his 31 Paoa cousins. Duke learned to swim as a toddler with his many cousins, the old way. "My father and uncle just threw me into the water from an outrigger canoe. I had to swim or else." Surfing was learned by trial and error and when Duke was a young boy only about a handful of individuals were riding surfboards. By age seven or eight years old, Duke was swimming, surfing, body surfing, and diving. As a teenager, Duke was in and out of schools and eventually dropped out of McKinley High to help the family pay bills.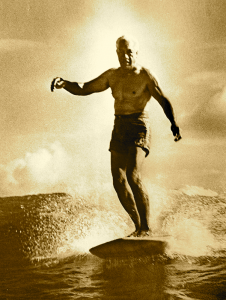 In 1908, Hui Nalu or "Club of the Waves" a Waikiki beach club was formed, and Duke was the club's leader. He continued to spend every day at the beach swimming, surfing, and canoe paddling. Duke's life changed at age 21 when he broke the world's 100 yard freestyle record at the first Amateur Athletic Union-Hawaii sanctioned swim contest. A few months later in February 1912, Duke and three others participated in AAU National Swimming Championship, and Duke eventually secured himself a place on the Olympic Team. Duke eventually competed in several Olympic games until the age of 42 winning 6 total Olympic medals. Duke's competitive swimming career allowed him to travel across the world. He competed in more than 50 international races. During his travels he introduced surfing and Hawaii to the rest of the world. Duke was the first man to surf on both the East and West Coasts of the United States and to take surfing to Australia. During Duke's visits in 1914-15, he taught the Aussies how to shape surfboards and helped them choose and ride waves.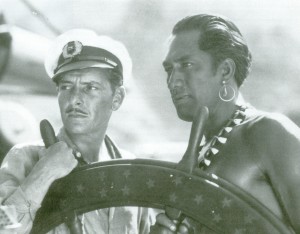 In 1922, Duke relocated to California and worked for Paramount Pictures and appeared in 28 Hollywood movies. Because of AAU rules he could not receive money for swimming and so to pay bills between movies he worked as a lifeguard and as a mechanic. He spent his weekends surfing. After living in California for several years, Duke returned to Oahu in 1929. In 1934, Duke ran for the City and County of Honolulu Sheriff's Office and won. He held the office for the next 26 years. Duke Kahanamoku was the greatest aquatic sportsmen the world has ever seen. Duke was the father of U.S. modern swimming and international surfing, a champion diver, bodysurfer, water polo player, surfboard polo player, fisherman, paddler, yachtsman, and sailor. He broke world swimming records, was the first Hawaiian to travel the world swimming and surfing, earned Olympic medals, and was the first person to be inducted into both the Swimming Hall of Fame and the Surfing Hall of Fame. He is also a member of the U.S. Olympic Hall of Fame.
Dukes legacy lives on today… the last bloodline at Waikiki Beach.
Harry S. Robello, an original Waikiki Beach Boy, founded Aloha Beach Services in 1959. In 1962, Harry married Barbara Kahanamoku (Duke Kahanamoku's niece). In 1983, Harry and Barbara's eldest son, Harry D. Robello nicknamed Didi, took over the family business. Didi, a second generation Waikiki beachboy and a third generation Kahanamoku, states, "Waikiki is in our blood, it's not a part of our family, it is our family." Didi wants visitors who come to Hawaii to "Save the shopping for later and come to the beach first!" Today Aloha Beach Services still offers surfing lessons, Outrigger Canoe rides, and everything else you need for a true Waikiki beach experience, while carrying on the Waikiki Beach Boy aloha. They are located in the heart of Waikiki Beach between the Moana Surfrider Hotel and Duke's Restaurant and have been operating at the same location longer than any other beach service in Waikiki.