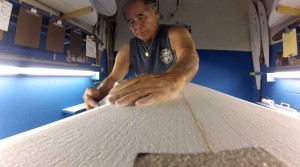 What do you think of when you hear the name Ben Aipa?  Legendary shaper?  Hawaiian surfing icon?  Competitive surfer?  Scrappy brawler?  Nice guy?  Family man?  Well, they all describe Ben.  His shaping has elevated the Ben Aipa name to one of the most respected in the surfing industry.  Many people also remember Ben for his fearlessness in and out of the water.   When the publisher of this magazine made a new friend who knew Ben 30 years ago, the first thing he said when talking about Ben was "that guy punched me in the nose."  When asked about the incident, Ben's response was "I don't remember, but he probably deserved it."  That's Ben, straight to the point.  Although Ben doesn't regret being known as a tough guy, he always knew in his heart he had something bigger and better to offer, and he found it in shaping surfboards.
Following in his grandparents' footsteps, Ben worked in the pineapple fields and at the Dole Cannery in his teenage years.  While attending Farrington High School, Ben dove into athletics.  He was on the football, swimming, and weightlifting teams.   His years of training and playing sports at Palama Settlement paid off.  He was a star athlete.   Ben continued to be involved at Palama Settlement as a Junior Counselor and began his coaching career there.  He also volunteered as a football coach at Farrington High after he graduated.   For a short period after that, Ben played semi-pro football in a Hawaii League.   Ben started coaching surfing at a young age, including Mark Richards when they were both in their 20's.
Ben is still coaching surfing today.  He takes young surfers under his wing and guides them into the professional surfing arena.  He has coached some of the best suffers in the world – including Bethany Hamilton, Koa & Alex Smith, Bruce & Andy Irons, and Sunny Garcia.
After that first ride, Ben continued to surf as often as he could.  "I ate it a lot, but I made it a lot, too." During his second year of riding waves, he managed to get in the water with his surfboard all 365 days!  He was smitten!  Surfing was all he wanted to do.  To finance his life in his mid-twenties, Ben drove a truck for Mid Pacific Lumber, a local building supply company in Honolulu.   But as he emphatically states, "I never worked overtime because I wanted to be out in the water.  I wanted to surf!"
Because Ben was a big football player (240 lbs.!), and the boards he was riding weren't exactly to his liking.  (Many surfers are shorter and most were definitely lighter, and so their boards didn't work for him.)  He wanted a custom board.   "I wanted to shape my own board so it would do what I wanted it to do."   So he did, and jokingly recalls, "It wasn't easy."  His first board was one of many on his route to perfection.  He knew how his boards needed to be shaped to get the most out of the waves. 
In the 1960's, surfing was catching on fire, boards were getting shorter and faster.  "I wanted to be part of that movement.  I wanted to be where surfing was going, to be part of it, to be part of the change."  Ben did become part of that change.   Although he knew nothing about aerodynamics, he began analyzing airplane wings, visualizing ways to incorporate those planes and rudders into his surfboards.  He watched surfers in the water.  He was always looking for ways to make his boards for big guys quicker and faster.  He was developing shaping techniques which would make his "heavyweight" boards as easy to ride as the ones made for lighter guys.  As he explained, "I experienced it by being in it."
Yes, Ben became the change.  He developed the "swallow tail" – the world-famous Ben Aipa hallmark going back to the days of Larry Bertlemen and Michael Ho.  Ben chose the term swallow because of the bird's fast change in directions.  He also created the "sting" which is a wing on the edge of the surfboard that makes it surf waves faster.  He modeled it after the hydrofoil on a boat.  With Ben's innovations and designs, his shaping business grew.  As he says, "Surfing and board building have been good to me, real good to me.  And I'm still enjoying it!"  Ben has devoted customers who have had him shaping their boards for 30 years, and now he's shaping the boards of their children!  When asked about what the future holds for him, the 70 year-old Hawaiian surfer/shaper replied, "I never left the future, yet!"
If you haven't talked to Ben for a while, or if you want to meet this surfing legend, visit Ben in his shaping room.  Ala Moana Surfboards is located at 1164 Waimanu Street (near Ala Moana).  He's there from 10 to 4 on weekdays.   The shop number is 808-591-9283 or you can reach Ben directly at 808-589-0804.
We were unable to identify many of the photographers of Ben's photos.  If we used one of your photos, please contact Ben.
By Rex Dubiel