In the year 2000, Raymond Li had a vision.  Raymond, a Chinese-born Canadian from St. John's Newfoundland, first sketched out his JetLev concept on a yellow post-it note.
His design was of a water-propelled personal jetpack.  But Raymond was his own worst critic and put the plans behind him and buried it in the trash.  But Ray kept the vision alive in the back of his mind, and in 2003 he started his extensive research, testing and development of the world's only water-propelled jetpack.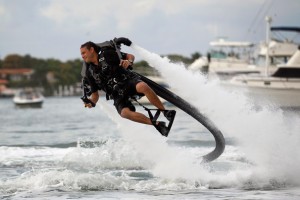 With assistance from the National Research Council of Canada in 2004, Jetlev kicked into high gear and Ray conducted a series of unmanned flight tests. In 2005, Jetlev relocated to Dania Beach, FL where Ray's motley crew of daredevil engineers and test pilots cautiously initiated the first in a succession of meticulously planned, manned flight tests. A few close calls… but mostly exhilarating highs. The first fully operational Jetlev prototype was completed in August 2008. A few months later, various clips from these test flights leaked online and went viral, surfacing on a variety of video sharing websites, boasting over 10MM views Worldwide. Seemed that the world was ready for Ray and his crazy contraption.From 2009 to 2011, development continued and Ray and his team worked to perfect the prototype.  Finally, a model was ready for commercial production.  And after numerous prototype iterations, dozens of test pilots, hundreds of flights, thousands of hours and countless modifications, Jetlev commercially launched the R200 in early 2012.
H2O Sports in Hawaii
H2O Sports, located in Hawaii Kai, shared Raymond's vision and jumped on board.  They purchased their own JetLev packs and named them the H2O JetPacks. H2O is the only commercial outfit in Hawaii to allow riders to experience the thrill.  H2O isn't new to watersports.  Their sister company – Seabreeze Watersports –  has been providing watersports activities in Hawaii for over 15 years with parasailing, jet skis, banana boat, snorkeling and scuba.
The basics of how the JetPack works
The H2O JetPack is different from anything you have ever encountered before, a true lifetime experience.  Imagine literally flying 30' over the calm waters of Maunalua Bay wearing an apparatus that relies on the pressure of the ocean water, your own sense of balance, and your innate ability to use your reflexes to change direction.
The sleek H2O 2OJetPack pod, a small, un-manned boat that trails the pilot, pumps seawater up a hose into the JetPack.  It is then directed downward at tremendous pressure from the control nozzles, propelling the pilot in all directions.  Smooth, exhilarating flight becomes a question of balance and subtlety of movement.  You can hardly imagine the natural high!  Check out the video for yourself at www.H2Osportshawaii.com.
Playtimes and check-In:
Your check-in and training begins in our Hawaii Kai Shopping Center headquarters.
Free roundtrip transportation with pick up from Waikiki hotels beginning at 8:00 AM.
Digital media photos and GoPro digital video services are available to all participants of the activity.
Additionally, there are great photo opportunities of the lovely Hawaii Kai coastline, Koko Crater, Koko Head and the Ko'olau Mountain Range, plus launch site activities.
Riders must be 16 years of age or older.
Participant must weigh between 85 and 315 pounds.
Pregnant women cannot participate.
Approximate on-site schedule
15 Minutes – safety video and ocean transit to the JetPack launch point
45 Minutes – H2O JetPack Experience with approximately 15 or 25 minutes in the flight mode following preparations and face-to-face instruction
Maneuvers
Depending on which JetPack experience you purchase, here are some of the tricks and maneuvers you can plan on
executing.
Basic steering
Elevation control
Low to high level taxi
Deep water landings
Walking on water
Low hovers
Stairway to heaven
Underwater submarines
High-speed turns
Donut turns
End-of-flight drop out
More Information & Reservations:  (808) 396-0100
H2O Sports, which locals have long known as SeaBreeze Watersports, is a pioneer in bringing water-based activities, such as parasailing and jet skiing, to the islands since 1986.  It has offices and docks at the Hawai'i Kai Shopping Center, with its major activities platform in the middle of Maunalua Bay.  They provide pickup and drop off at your hotel in Waikiki.  H2O provides discounts to Aloha Surf Guide readers, and you don't have to be local to get the $169 Kama'aina price (usually reserved for Hawai'i residents) for the Introductory Flight Experience.  Ask also about the advanced JetPack Flight Experience.  If you want to experience other activities, they offer Multi Experience Discounts.