Hawaii law requires that all operators of motorized vessels attend mandatory boating safety education about local ocean safety principles and practices; and laws affecting protected species and power driven vessels.  Boat owners are expected to make sure their vessel carries the required safety equipment and is in compliance with state and federal regulations.  All undocumented vessels equipped with propulsion machinery must be registered in the state of principal use.  A certificate number will be issued upon registration and the number must be displayed on the vessel.  Law requires that vessels more than one mile off shore be equipped with a properly functioning Beacon (EPIRB) or VHF-FM Emergency Position Indicating Radio.  Some small vessels like surfboards are excluded from certain laws and regulations.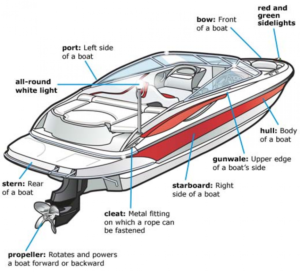 Life Jackets
The U.S. Coast Guard regulates life jackets as Personal Flotation Devices (PFD).  There are five basic types of PFD's or life jackets; Type I through Type V.  All recreational vessels must carry one wearable life jacket for each person on board, and any boat over 16' long (except canoes and kayaks) must also carry a throwable (Type IV) device.  Read the manufacturer's information booklet and label provided with all life jackets.  Life jackets must be U.S. Coast Guard-approved, in serviceable condition, appropriately sized, properly stowed and readily accessible.  It is recommended but not required by law for all passengers to wear life jackets.  Children under the age of 13 are required by law to wear a life jacket on a vessel that is underway.  Certain activities including waterskiing, PWC operation and sailboarding require life jackets.
Operator's Responsibilities
With boating, all participants should bring their safety A game.  But operating a boat brings a much higher level of responsibility.  Operators should not view regulations as minimum requirements but rather should seek the highest levels of safety, education and preparation.  Operators are responsible for boater safety, continuing education, float plans, vessel capacities, life rafts, fire extinguishers, ventilation requirements, carbon monoxide hazards, sound producing devices, signaling devices, placards, pollution regulations, sanitation devices, pumpout locations, lateral aides, regulatory markers, safe water markers, PWC requirements, proper anchoring and use of moorings, mandatory insurance minimums, ethanol gas, refueling, ramp usage, accident response plans & reporting,  SOS and distress signals, good seamanship, monitoring weather, pre-departure checklist, safety checks, Coast Guard boarding, and unauthorized boating zones.
Must Have
Nautical chart, dewatering device and backup, anchor and line, first aid kit, person-in-water kit, capacity plates, marine radio, navigation rules book, sunscreen, flashlights, tools, binoculars, mirror, paddles, compass and a marine radio.
Learn More
To learn more about Hawaii's boating laws and how you can be a safer boater, contact the Hawaii Department of Land and Natural Resources Division of Boating and Recreating at 808-587-1966.  The DLNR enforcement hotline is 808-643-DLNR.  U.S. Coast Guard 24-hour Search & Rescue number is 808-842-2600.