If you have been snorkeling and are ready for the next level of adventure, scuba diving allows you to dive to much greater depths to explore shipwrecks, crashed airplanes, caves, large reef formations and a whole new world of underwater life.  Scuba used to be an acronym, sort of (SCUBA = Self Contained Underwater Breathing Apparatus) but the name 'scuba' has become so household it is now part of our English language.  Scuba requires an investment of time and money, and your effort to want to do it right.  Most beginner divers who successfully complete the necessary courses and dive, say that they are glad they did it and would do it again, and would refer it to a friend.
Certification
The Open Water Course is the standard scuba diving certification course, with three elements – knowledge (the books), confined water (the pool) and open water (the real deal).  Courses can be taught in 3 to 5 days, or take a part-time course; or take parts of the course at home through E-learning before you arrive to Hawaii, saving precious vacation time.  Before you leave on your trip, get the Open Water Referral Form signed by your doctor, if you answered 'yes' to any of the questions.  This form is used to clear your health for Scuba diving.
The Discover SCUBA Diving (DSD) course is available as a starter that gets you in the water and requires less class time; and dive depths and instructor ratios are restricted.  When you sign up for any class, make sure you know what is included.
Certification is important (and required by law to go scuba diving) because of the many technical aspects of diving including pressure, depths, equalization, bottom times, decompression, ascent & descent, buoyancy control, breathing, hand signals, decompression, equipment, health concerns, laws of physics, regulator recovery, dive mask clearing and recovery.  After your initial education, continue your education and keep up to speed of industry happenings and evolving technologies.
Equipment
If you are visiting Hawaii, you will most likely be working with a local scuba service provider and not purchasing your own equipment.  If you are interested in a life-long pursuit of scuba diving, you still want to start off in the beginner stages with tourists and other new divers.  For the purpose of this article, we will only introduce the different equipment used with scuba because your dive instructor will take on the responsibility of training you on the different aspects of scuba diving.  Below are the basics of scuba you will learn about in your education.
Mask & Snorkel
See our snorkeling section about choosing the right mask for fit and comfort.  Scuba masks require a bit higher quality with tempered glass, are rated for depth and they usually have lower air volume.  Some scuba divers prefer to have a snorkel with them although hardly used.  It allows them another option for breathing when at the surface of the water treading or working on equipment.
Fins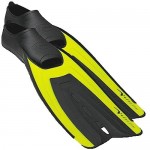 Scuba fin designs have gone off the deep end.  You can be satisfied with traditional fins, or do the research of all the advancements in fin designs.  Scuba fins will be more rigid due to the heavy weight of the gear and equipment used with scuba.  Fin designs include split fins, polyurethane force fins, pivoting blade technology and a toes-free foot pocket.
Wetsuit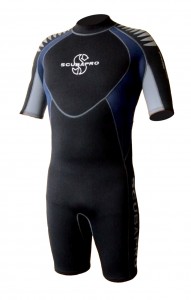 Most are made from foamed neoprene containing millions of tiny bubbles.  They provide thermal insulation, buoyancy and protection from abrasions.  Wetsuits are used in Hawaii rather than drysuits which are designed for cold temperature dives.  Wetsuits trap a thin layer of water between the suit and your skin.  After a few minutes in the water, your body will heat this water and create a comfortable diving temperature and insulation.  There are three types of neoprene used in wetsuits – Standard Neoprene, Super Stretch Neoprene, and Super Stretch Water Repellant Neoprene.  Super Stretch provides the most flexibility but are also the most expensive.  Manufacturers provide wetsuits that have Super Stretch only in the high-flex areas to save you some money instead of buying 100% Super Stretch.  The three most common styles are full body, shorty and multi-piece systems.  The type of seam used is important also with three basic types used – Flatlock, Glued and Blindstiched, and Sealed & Taped.  Flatlock stitching is suitable in Hawaii due to the warm waters.  There are many other considerations when choosing a wetsuit including thickness, zippers, linings, pockets and flush resistance.
Regulator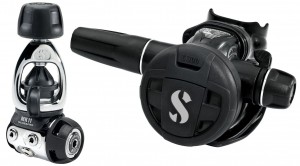 The regulator is what supplies the breathing air to your mouthpiece from the cylinder.  The first stage of the regulator reduces the air pressure from the cylinder and the second stage controls the air flow into your mouth.  The regulator also includes a pressure gauge that monitors the amount of air in your tank and a Low Pressure Inflator Hose that connects the first stage to the inflation mechanism of your BCD.  If you are working with a dive master, he or she will fit you with the most suitable regulator.  If you are buying, make sure you have a good idea of what types of diving you plan to do and make sure you are working with a knowledgeable salesperson.  Choosing the right regulator can be quite technical when it comes to choosing how you want the regulator to attach to the tank, balanced vs. unbalanced vs. overbalanced, what types of ports you need, and other considerations.
Octopus
The octopus is another regulator that provides a secondary air source from your own tank.  It provides emergency air to another diver if necessary.  The octopus also will work as a backup if your primary regulator is not working.  Generally your primary regulator is where you want to put your money because the octopus is only there for backup.
Diving Cylinder
A gas cylinder that stores high pressure breathing gas at approximately 3000 psi and can hold about 80 cubic feet of atmospheric pressure gas.  It is also called a 'scuba tank' or 'oxygen tank' and is made of normally made of cold-extruded aluminum or forged steel  The cylinder does not contain pure oxygen but rather atmospheric breathing air, or an oxygen-enriched air mix.  Cylinders are regulated by Department of Transportation (DOT).
Weight Belt
Weight belts and harnesses offset the buoyancy created by wetsuits and cylinders.  Vests are also used but can interfere with the BCD.  The weight belt has small pouches or keepers where you place lead brick weights or bags with lead balls similar to a bean bag.  The weight belt should have a quick release buckle but be careful because you don't want to ascend too quickly.  Some BCD's have integrated weight systems.
Buoyancy Control/Compensator Vest or Device – (BCD)
Allows air to be added or released from a bladder so the diver can control buoyancy.  Controlling your buoyancy (hovering) is one of the keys of successful diving.  The two main styles of BCD's are wings and jackets.  The jacket style is better for beginners whereas some more experienced divers prefer the wing style.  When choosing your BCD make sure you are properly weighted.  If you are purchasing a BCD ensure you are working with a knowledgeable dive shop so you get the right model for you.
Surface Marker Buoy
In open water, you don't want boats hitting you.  The surface marker alerts other boat captains to your location.  State law requires the use of dive marking flags (surface markers).
Dive Gloves
Some experts say they are not needed because you should not be touching anything underwater anyway.  Some people like the sense of safety that comes with dive gloves.
Dive Boots
Unlike gloves, the boots are must for any dive.  Your boots should generally be the same thickness as your wetsuit.  Thick soles are a must if you are shore diving.
Instruments
Measure everything – depth, altimeter, compass, GPS, bearing memory, remaining bottom time (RBT), tank pressure, decompression calculations, buoyancy control, heart rate and nitrogen uptake.  Various types of gauges and computers are available.
Accessories
Alternate air source, computers, slates, flashlights, knives, etc.
Health Considerations
Generally scuba diving is not considered a dangerous sport as long as you follow industry-accepted safety guidelines, work with a reputable scuba company, listen to your instructor, and are have no major health problems.   A Medical Statement from RSTC is required for all scuba participants.  If you are travelling to Hawaii, try to complete this form before you arrive because it may need a clearance from your doctor.  If you are flying after a dive, talk to your instructor about wait times before flying.  Many experts recommend that you avoid flying at least 24 hours after your last dive.  Ask you dive master about this.  Many dive computers have a time-to-fly indicator telling a diver how long to wait before flying.  If you experience any sickness or changes in health after diving, see a doctor immediately.  Various illnesses and injuries, sometimes very serious, even fatal, can occur when scuba diving.
Tips to make your underwater adventure safe and more enjoyable.
Aloha Surf Guide recommends that all new scuba participants hire the services of an Open Water Scuba Instructor.  This information is for educational purposes only and not a final destination for your scuba research.  Check surf and weather conditions before entering the water.
There are over 20 scuba operators on Oahu.  We recommend that you avoid calling around looking for the 'cheapest' price or searching the internet for the best coupon offer.  Also be aware that a high Google search result doesn't always result in high quality service.
Before you go, know your equipment.  Avoid buying 2nd hand equipment from Craigslist or other unknown people.  Buy all equipment from a shop.
Never hold your breath underwater.  This can cause an over-expansion of your lungs or more serious consequences.  Breathe slowly and in a relaxed manner and fully exhale.
Never dive alone.  Take your time preparing and relax while you are in the water.  Don't panic if a problem occurs.  If something happens you should have the time to stop, breathe, think and react.  Don't exceed your own personal limitations or the limitations of your equipment.
Learn to swim without using your arms.  Know where your fins are and don't kick up sand.
Wash all equipment thoroughly using fresh water.  Allow to air dry and store in a cool dry place.
It's a minor precaution, but talk to your doctor before you dive.  Its why the industry requires the Open Water Referral form which requires a doctors signature.  Even if you didn't answer 'yes' to any of the questions, its better to be safe.
Dive Sites
When choosing a dive or snorkeling site, it is your responsibility to research and decide which site is best for you and your family.  There are some important factors to consider.  Before getting in the water, read our ocean safety, snorkeling, and scuba diving pages for beginner tips.  If you are new to scuba, working with a local dive shop is a must, and if you are new to snorkeling, we recommend a dive shop or guided tour.  Many of Oahu's best snorkeling sites are not protected with a lifeguard, so you make sure you are keeping safety as your number one goal.  We will continue to stress staying with at least one or two dive/snorkel buddies at all times – do not venture off alone.
Here are some other tips when you are choosing a site or out in the water.  Many areas have fast-moving boats overhead.  Keep the dive flag visible and stay near the boat if you are connected to moorings.  Ocean conditions will dictate where you go.  For example, the north shore is pounded with huge surf during the winter months so you might want to choose another place or activity then.  Use extreme caution when considering entering caves or ship wrecks.  Your dive instructor will tell you what areas are safe to enter based on  your experience level.  This is why it is important to work with a reputable dive shop who will not take you into bad conditions, at any place on the island.
The island of Oahu has nearly 100 dive sites and a handful of safe snorkeling sites.  Many snorkel sites like Hanauma Bay and Sharks Cove are excellent for both snorkeling and scuba.  Below we highlight some of Oahu's most famous and well like dive/snorkel sites.  Some of the sites are for advanced divers only.
EAST SIDE
Hanauma Bay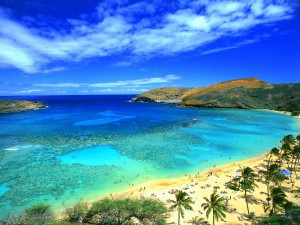 Hawaii Kai
Scuba & Snorkel
15 – 70 Feet
Beginner – Intermediate
Shore
Hanauma Bay Nature Preserve is one of the most visited destinations in Hawaii.  In 1967, Hanauma Bay was declared a protected marine life conservation area and underwater park.  The crater where Hanauma Bay rests was created over 30,000 years ago from a volcanic eruption.  This is a great family activity with the large beach and protected snorkeling area.  The bay is open from 6 am to 7 pm during summer and 6 am to 6 pm during winter.  The bay is closed on Tuesdays.  The lot will fill up fast and they will close it off if you arrive later in the day when the lot is full, so get there early.  Parking and entry will cost you, call 808-396-4229 for information.  The bay is visited by millions of visitors per year, so please take extra care not to affect the beach, wildlife or coral.  For more information about what you can do to help preserve the bay, visit the Friends of Hanauma Bay website.
Angler's Reef
Maunalua Bay
Scuba
35 Feet
Beginner – Novice
Boat
Angler Fish Reef is a ridge made of lava rock and coral that runs parallel to the shore.  This is a great beginner night dive site.  Common marine life includes numerous sea urchins, frog fish, sponge crabs, reef sharks, spotted eagle rays and eels.
Koko Craters
Maunalua Bay
Scuba
35 – 40 Feet
Beginner
Boat
Koko Craters is a classic beginner dive spot.  The site includes a group of circular craters that lie in about 30 to 35 feet of water.  The craters were formed when Koko Head erupted nearly 10,000 years ago.  It has been nicknamed turtle heaven due to the abundance of green sea turtles.  In addition to turtles, commonly seen marine life includes eels, striped belly puffer, octopus, snapper, scorpionfish, Potter's anglefish and schools of other reef fish.
China Wall
Maunalua Bay
Scuba & Snorkel
40 – 60 Feet
Beginner – Advanced
Boat & Shore
China Wall is also known as Portlock Wall because it is in the Portlock neighborhood of Hawaii Kai.  This dive site is part of Koko Head located adjacent to Maunalua Bay and is most often accessed with a boat.  The site is a 35 to 50 feet vertical wall.  In some places, the depth reaches nearly 100 feet.  Most dive charters will include China Wall Drift (Spitting Caves) and the giant sea cave.  There are many ledges and smaller underwater caves to explore here.  Common species include white tip reef sharks, eels, turtle, butterfly fish, monk seals, wrasse and trumpet fish.
Corsair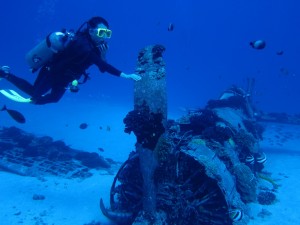 Maunalua Bay
Scuba
110 Feet
Advanced
Boat
The F4U Corsair was a WWII era fighter plane, and also served in the Korean War.  There is some uncertainty as to when the plane actually went down and I found three different years on various diving websites – 1945, 1946 & 1948. 
The captain ran out of gas and made a near perfect landing in the water, keeping the plane nearly fully intact.  The captain survived and little did he know he would create one of Oahu's most popular dive sites.  All other wreck dive sites were intentionally sunken ships.  A large Moray Eel is known to hang out in the cockpit, so watch out!  The wreck is known for its hundreds of garden eels.  Octopus, Eagle Rays, Frog Fish, pelagic species (surface fish), and many reef fish are also commonly seen at the Corsair.
Other popular dive sites on the east side include Palea Point, Mini Barge, Lanai Lookout, Manana "Rabbit" Island, Blow Hole, Makapu'u Point, Witches Brew Drift and Mokolea.
WEST SIDE
Electric Beach
Nanakuli
Scuba & Snorkel
25 – 35 Feet
Beginner – Novice
Boat & Shore
Kahe Point Beach Park got its nickname 'Electric Beach' from the HECO electric plant located across the road, so it should be easy to find.  Its one of the most popular beginner dive sites on the west side and used by many shops for certification, so it can be crowded at times.  Be careful of vehicle break-ins at this site. The site includes a mostly sand bottom, large coral heads close to shore; and large rocks, caves and coral reefs further out you go.  Be careful of the blue underwater outflow pipes from the electric plant where hot water is shot out at high rate.  The water is clean and the warmth attracts various sea life.  You can see the change in the surface water above the pipes so look for it before you enter the water.  Common sea life includes the spinner dolphin, needle fish, trigger fish, snapper and the green sea turtle.
Mahi Shipwreck

Waianae
Scuba
65 – 90 Feet
Advanced
Boat
The Mahi shipwreck is one of the most popular dives in Hawaii.  The ship is a 1939 180 feet World War II U.S. Navy minesweeper & cable layer that was sunk in 1982 to provide an artificial reef. It sets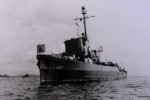 upright in 90 feet of water with the main deck at approximately 65 feet.  After nearly 30 years of sitting on the ocean floor, the ship has become encrusted in coral. The bridge and two of the main decks have collapsed resulting in many divers avoiding entering the ship.  Common sea life includes white-spotted eagle rays, white-tipped sharks, butterfly fish, octopus, puffer fish and green sea turtles.
29 Down

West Side
Scuba
60 – 70 Feet
Intermediate
Boat
29 Down is Hawaii's newest wreck dive and artificial reef.  The plane is also surrounded by a beautiful reef formation.  The site is a 50 foot long 1950's De Havilland Heron Series 2A aircraft originally used by the Hawaii Air Transport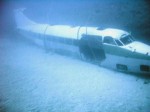 Service.  The name of the dive site comes from the television series 'Flight 29 Down' about a group of teenagers stranded on an island after their plane crashed.  The show was filmed in Hawaii and aired in 2006 and 2007.  The wings were removed before sinking the aircraft and there is word that the wings might be added at a later date.  The fuselage has been severely damaged by a large winter storm.  Common marine life includes octopus, eels, frogfish and nudibranch.
Other popular dive sites on the west side include Makaha Caverns, Seaplane Wreck, Tech Reef, Keaau Corner and Makua Valley Ridge.
SOUTH SHORE
Kewalo Pipe
Kewalo Basin
Scuba
40 – 60 Feet
Beginner – Intermediate
Boat & Shore
Kewalo Basin Pipe is a retired storm water drain pipe that runs out from the shoreline.  The pipe ends at about 65 depth of water and has broken up over time.  The pipe has lots of coral growing from it plus there are a few nice coral reef formations nearby including horseshoe reef and Bob's bunker.  The end of the pipe can be accessed as a shore dive but most dive companies recommend access via boat.  Common marine life you might see are moray eels, the dragon eel, wrasses, spotted eagle rays, and puffer fish.
Sea Tiger

Waikiki
Scuba
90 – 120 Feet
Advanced
Boat
The Sea Tiger is a 170 foot former fishing vessel and one of Oahu's most famous dive sites.  The ship was confiscated from China (then named Yun Fong Seong No. 303) after it was found partaking in illegal immigrant smuggling activities.  The boat was purchased by a fishing company and named the Sea Tiger.  The ship was later purchased and sunk by Voyager Submarines in 1999 as an artificial reef.    At 125 feet, the Sea Tiger is the deepest wreck dive in Oahu waters.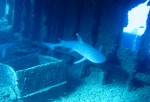 The ship lies in a well-protected area and is relatively undamaged providing nice swim throughs including the bridge and cargo holds.  Common sea life includes white spotted eagle rays, large puffer fish, scribbled filefish, a very large green sea turtle and frogfish.  The site is visited daily by Atlantis Submarines so if you aren't ready for scuba, contact Atlantis at 800-381-0237 or visit their website for more information.
Magic Island

Ala Moana Beach Park
Scuba & Snorkel
30 – 40 Feet
Beginner – Novice
Shore
Magic Island, which is actually not an island, is a small man-made peninsula connected to Ala Moana Beach Park and next to the Ala Wai Yacht Harbor.  The real name for this property is Aina Moana which means 'land from the sea.'  The landfill project was originally intended as a home for a resort area that never happened.  At the end of Magic Island is a nice beach protected by a sea wall.  This is a safe place for snorkeling because you won't have to worry about boats or large waves.  Its also a great place to start your scuba practice sessions.  Diving is an option outside of the sea wall, but waters can be murky and there es a lot of boat traffic.  On weekends, parking fills up fast so get there early.  Or shop and dine at Ala Moana Shopping Center and use their parking.  Common marine life includes porcupine fish, manta rays, green sea turtles, spotted puffer fish, morays, moorish idols, triggerfish, and fantail filefish.
Other popular dive sites on the south shore include Kahala Barge, Fantasy Reef, Pearl Harbor Wall, Sea Cave, YO 257 and the San Pedro.
NORTH SHORE
Sharks Cove

North Shore
Scuba & Snorkel
35 – 40 Feet
Beginner – Advanced
Shore
Sharks Cove is a well-protected inlet that is popular for both snorkelers and scuba divers.  No, there are no sharks in the cove, but you might see some outside the protected area of the cove.  With a shallow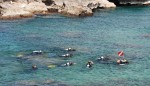 sandy entrance, this is a great place to start your snorkel or scuba career!  Outside of the cove you will find deeper waters, caves, large boulders and more marine life.  But if you haven't heard yet, the North Shore gets pounded with some of the world's largest waves in the 'winter' months usually from October to May, and unexpected swells can come year-around.

Three Tables
North Shore
Scuba & Snorkel
20 – 45 Feet
Beginner – Intermediate
Shore
Less than a mile from Sharks Cove is Three Tables.  The name comes from three flat rocks that protrude perpendicular to the shore.  There is a very nice swim through cave at this site in addition to canyons, lava tubes, large boulders and reef plateaus.  Whitetip reef sharks, eagle rays, spanish dancers, octopus, green sea turtles, and eels are commonly seen here.

Waimea Bay & Wall

North Shore
Scuba & Snorkel
30 – 65 Feet
Beginner – Intermediate
Boat & Shore
Waimea Bay is home of some of the largest waves that Oahu sees during the winter months.  But during the flat summer months, the bay provides some excellent snorkeling and scuba diving.  As you face the ocean, the wall is on the right side and you can also go to the left side where the large jumping rock is.  You can also explore out into the middle of the bay and where Waimea breaks and explore the topography that causes the large wave to break.  There are lots of caves, crevices, overhangs, canyons, a lava tube, three coral fingers and a nice swim through.  Parking can be challenging to find.  You should see green sea turtles, lots of reef fish, nudi brancs, cleaner shrimp, eels, juvenile lobster and large parrot fish.
Other popular dive sites on the north shore include Haleiwa Trench, Waimea Walls, Kahuku Ledge, Mole Heaven, Police Beach, Grand Canyon and Devils Rock
Terms
Alternative Air Source – A secondary air supply or breathing gas used in an emergency.
Ambient Pressure – The pressure on an object of the surrounding medium that comes in contact with the object; the pressure from water in diving.
Bottom Time – the amount of time a diver can stay underwater before beginning the ascent.
The Bends – A term for decompression sickness when you ascend too quickly.
Buddy Check – A procedure where divers use a buddy system to check each other's dive equipment for function, configuration and fitting.
Buoyancy – the definition of buoyancy is the diver's (or an object's) tendency to float.  Understanding buoyancy is a very important key in safe and fun scuba diving.  Positive buoyancy is floating upwards.  Negative buoyance is sinking downwards.  Neutral buoyancy is when the person doesn't sink or float.  If the force of gravity is stronger than the buoyancy, then you will sink and vice versa.  Displacement is when the water is moved when your body is in the water.  If the weight of the diver is more than the displaced water, the diver will sink and vice versa.  Many factors affect each diver's buoyancy including body composition, air in the lungs, weights, exposure protection (wetsuit), other dive gear, and finally the Buoyancy Control Device (BCD).  You will control buoyancy with the BCD.
Decompression – Reduction in ambient pressure during the ascent at the end of a dive, and the process of allowing dissolved inert gases to be eliminated from the body tissues during the reduction in pressure.
Dive Theory – As a beginner, it is important that you understand the theories behind diving to greater water depths using scuba gear.  You don't just jump in the water and start swimming down.  The practice is that scuba diving students have working knowledge of the physics and physiology of diving, as well as the ability to apply that knowledge to situations that arise that are not anticipated.  The instructor will do his or her best to prepare you for any situation, but it is on you to have a grasp of the rules of safe diving.
Dry Bag – A bag that seals sensitive items in a watertight manner.
Pressure – The deeper you go, the higher the pressure is from the water.  The concept is simple, there is more water above you so more weight on your body.  The air pressure above the water also places pressure on the diver.  The water pressure on the body actually compresses the air in your body.  As you descend, the air in your mask, lungs and ears becomes compressed acting like a vacuum and creating negative pressure.  When you ascend, the air spaces in the lungs and ears will experience positive pressure and the air will then expand.  To avoid a pressure related injury you must equalize the pressure in your body's air spaces with the pressure around you.  Your dive instructor will teach you how to equalize air spaces properly during ascent and descent.  Equalization through a timed ascent is also important due to the fact that increased pressure causes the body to absorb more nitrogen gas than normal, and the body can only metabolize nitrogen so quickly upon ascent.
Ear Equalization – To open the lower ends of your Eustachian tubes and allow air to enter the cavity in your ears, to counter the pressure from the outside as you dive deeper.  Several techniques can be used.
Full Face Mask – A mask that provides breathing gas and covers the entire face including nose, mouth and eyes.
GPS – Global Positioning System.
Guide Line – A line that allows divers to return to a safe place in conditions of low visibility or strong water currents.
International Diving Regulators Forum (IDRF) – A group of diving professionals, regulators and certifying agencies with the goal of forming best practices in scuba diving.
International Diving Schools Association (IDSA) – A group formed with the goal of developing common international diving standards.
Log Book – A record of dives for an individual diver.
Moorings – Lines embedded in the sea floor that provide a place for boats to tie off, preventing the anchor from damaging the coral.  Most dive companies on Oahu use moorings.  The mooring line is also used for ascending and descending.
Night Diving – Diving in the hours of darkness.
NOAA – National Oceanographic and Atmospheric Administration.
Octopus Breathing – Sharing air from another diver using their octopus regulator.
Open Circuit – The apparatus that discharges exhaled gas into the water.
Primary Light – The main light used on a dive.
Recreational Diving – Diving that uses scuba gear for leisure and enjoyment.
Run Time – The total time that has elapsed since the start of your dive.
Safe Second – Term used for a backup regulator.
Scooter – A separate propulsion vehicle that the diver holds onto to travel underwater.
Shore Diving – Entering the diving area from shore.  A good example of this is Sharks Cove.
Slate – A panel used for writing messages underwater.
Surge – Water movement caused by waves passing overhead that causes deeper water to move in a parallel direction.
Thumb The Dive – A time when the dive must end before the planned end, usually because of an emergency situation.
Visual Inspection Program – Inspection of the cylinder on an annual basis.
Wreck Diving – Recreational diving around or inside shipwrecks.